Have a nice Daisy
Hello and welcome back!
Today, I am channeling my inner hippie with a fun new card for Dare 2B Artzy. In the latest release from Dare 2B Artzy there was this fun little sentiment stamp called Have a Nice Daisy. The stamp measures 2 ½ x 2 ½ so it's perfect for a card focal point. The stamp has a fantastic, retro font and it is so fun to color. I thought it would be fun to try to create a tie-dye look using these fun chunky letters and my Sketchmarkers.
To be honest, I colored this sentiment stamp 3 different times (twice with OLO Markers) before I got it exactly the way I wanted it to look. I was going for a sort of tie-dyed look with the font.
It was a challenge to get a good blend as my collection of Sketchmarker Brush Pro's is limited so I had to try to achieve some blends with only two colors and a lot of tip-to-tip marker blending.
I started with some yellow-green colors and blended all the way to the bottom of the sentiment ending with some orange-yellow colors.
For the flowers, I colored each flower in the sentiment with an opposing color of that line of the sentiment. This allows the colors to pop against the bright rainbow background.
My finished sentiment is so bright and cheerful. I really love it.
There is not a coordinating die for the sentiment, however the Square Frames die set works well to cut out the sentiment perfectly.
I cut one additional Square Frame that was one size larger from some bright yellow cardstock. This would create a second layer to mat the sentiment.
Next, I cut several flowers from the Groovy Van stamp set. The flower clusters are so pretty, and I love coloring them with bright colors. They really add to the card with the bright colors.
Finally for my card background, I used some rainbow hot foil and the Make Waves hot foil plate from Dare 2B Arzy. The rainbow hot foil and the Waves make the perfect backdrop for my sentiment. I foiled onto a teal-colored cardstock.
I popped up the flowers on the same layer as the yellow background and then added on the Have a nice Daisy sentiment using a double layer of foam tape.
For a finishing touch, I added some little iridescent, flat backed baubles in pink, orange and purple to the center of the flowers. The baubles are used for nail art, but I thought they looked perfect for the card background and were the perfect size for the small flower centers. I added them to each flower with some liquid glue.
That's it for today's card. It was super fun to create this and channel my inner hippie for a couple of days. I love, love all the bright colors on this card.
I have linked to all of the products used in today's card below for your convenience.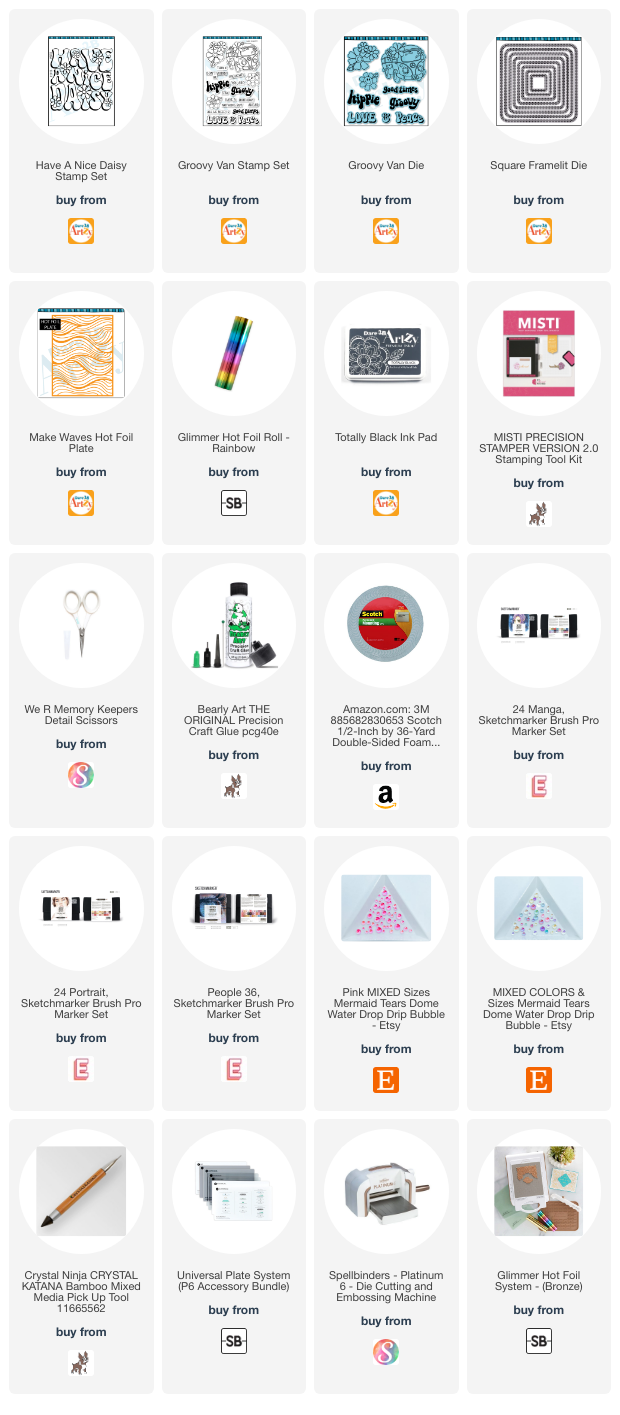 https://linkdeli.com/widget.js?id=f5e8378456858c916708