A Look Back – Dare 2B Artzy Favorites
Hello Artzy friends! I'm hopping in today for a quick look back at my favorite Dare 2B Artzy projects over the past few months.
It was so difficult to narrow it down to just 3 projects as there were so many that I really loved and enjoyed creating, but here's a look at my top 3 favorites.
First, I had to include the Buzzzy Beez slimline card that I created. I really loved using these fun beez paired with the Holly Xmas stamp set to create some awesome flowers for my beez. I enjoyed being able to take a Christmas stamp and use it for a non-Christmas card. I really love how all the bright yellows and orange's pop against the black background.
Next up in my look back is one of my fall favorites using the Tangle Leaves stamp and die set. I loved creating some slimline windows from the Wavy Slimline Framelets die set and showcasing each of the leaves inked up in some gorgeous fall colors. This card was so easy to create and it is definitely one of my favorites.
Last, but certainly not least, I have saved one of my all time favorites featuring the adorable Just Chillin' stamp set. I can't get enough of this awesome stamp set. For this card I created a watercolor background using some metallic watercolors and cut it using the snowflake slimline die set. It created a beautiful soft snowy backdrop for my penguins and polar bear to play on. This turned out to be such a fun card to create! I really love how it turned out.
I hope you've enjoyed today's retrospective on my favorite Dare 2B Artzy cards for 2020.
I hope everyone has a wonderful Christmas and a Safe, Happy and Healthy New Year! Here's hoping that the New Year will bring many good things for all of us! I'll be back with more Dare 2B Artzy creations after the holidays!
Hugs,
Tonya
Links to all of the Dare 2B Artzy products used to create my favorites are listed below at no cost to you.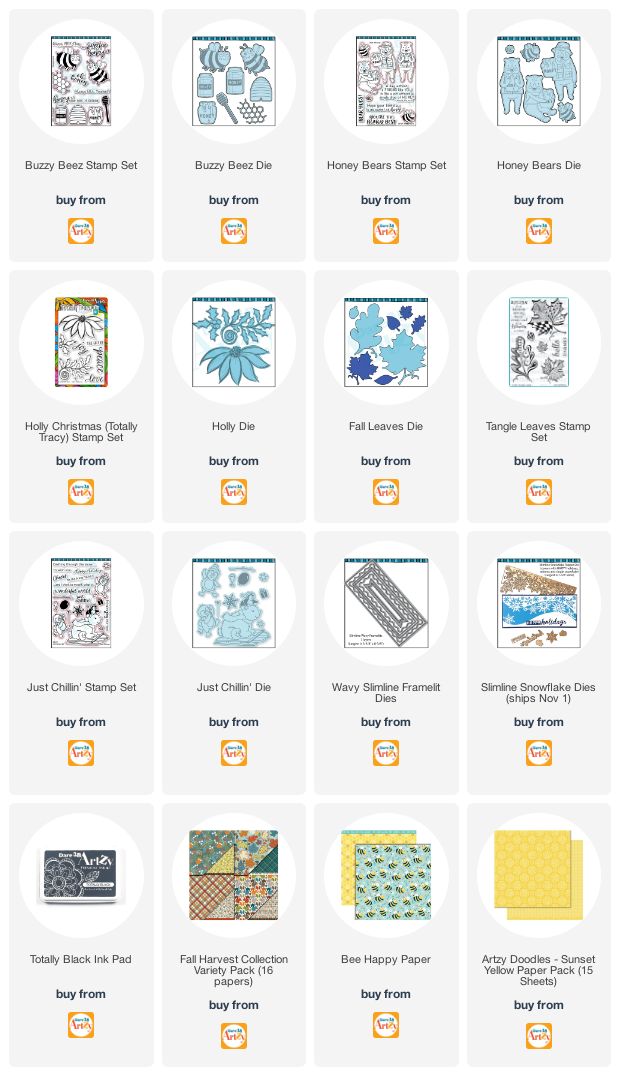 https://linkdeli.com/widget.js?id=f5e8378456858c916708