October Challenge with Dare 2B Artzy
Hello and welcome back!
Can you believe that we're heading into Fall already? I am always excited for Fall because it's my absolute favorite time of year – mostly because the temperatures are so much cooler and the colors of Fall are so inspiring.
Since this is the first Sunday in October, there is a new Card Challenge over at Dare 2B Artzy. This month's challenge is to use your favorite colors in a card or scrapbook page.
My favorite color is purple. I've loved purple since I was a little girl when the first bedroom I can remember, my mom painted lavender for me. The cool tones of purple are usually the one's I reach for first when I am creating cards, particularly for Fall and Winter themes.
Today's card is special, not only because it is for the October Challenge but also because today happens to be my Wedding Anniversary and I made this card for my hubby. The colors of my bouquet for my wedding were purple and orange so I tried to recreate the colors using one of my favorite new Dare 2B Artzy stamps called Hello Sunshine.
The Hello Sunshine features the large Sunflower bloom which also happens to be the state flower of Kansas where my husband is from. I know that Sunflowers are not typically found in shades of purple but I absolutely love how this card turned out.
The large sunflower was stamped and colored with Copic markers. The Copic colors used V09, V17, V15 and a YG17 to underpaint the purple to give it a deeper color in the shadows. For the orange, I used YR18, YR09, YR07, YR02 and YR65. The green on the leaves was G46, G43 and G40. For the center of the flower I used E49, E47, E44, E43 and E42.
I cut out the completed sunflower and set it aside.
Next, I stamped and heat embossed the Happy Anniversary sentiment from the Love Birds Stamp set with some Hero Arts Tiger Lilly embossing powder. Using a pencil, I traced around my heat embossed image and cut it with my Brother Scan n Cut machine.
For my background, I used a piece of shiny black cardstock and hot foiled it with the Dare 2B Artzy Triangle Hot Foil plate and some Spellbinders Lavender Petal hot foil. I wasn't sure how the glossy black cardstock would foil but I am happy to report that it foiled perfectly.
Once my background was foiled, I used the largest Double Dot Circle Die set to cut out a circle with my foiled triangles off to the left side.
I created a circular card base by using a larger circle and running it through my die cut machine with a piece of Neenah 110lb cardstock scored and folded in half. I placed the circle die so that a small portion at the top would overhang my cardstock. This would leave an edge of my circle that would not be cut creating a folding circular card base.
My background was added to my card base with some dimensional foam and I also added the flower and my sentiment to the card panel with some dimensional fom.
For a finishing touch I added some purple gems to the card front with some Bearly Arts glue.
That wraps up my Challenge Card for October using my favorite color purple. I am hopeful that my husband will love it and be a bit reminded of our wedding day 12 years ago today. Wow, time flies!
If you are reading this Gary, Happy Anniversary! Love you to the moon and back!
Thank you for stopping by! The products used in today's card are linked below for your convenience.
Don't forget to check out the Dare 2B Artzy blog post today for other design team members inspiration for the October Challenge. You'll be able to link up your project there for the challenge and a chance to win a gift card to the Dare 2B Artzy store.
Hugs,
Tonya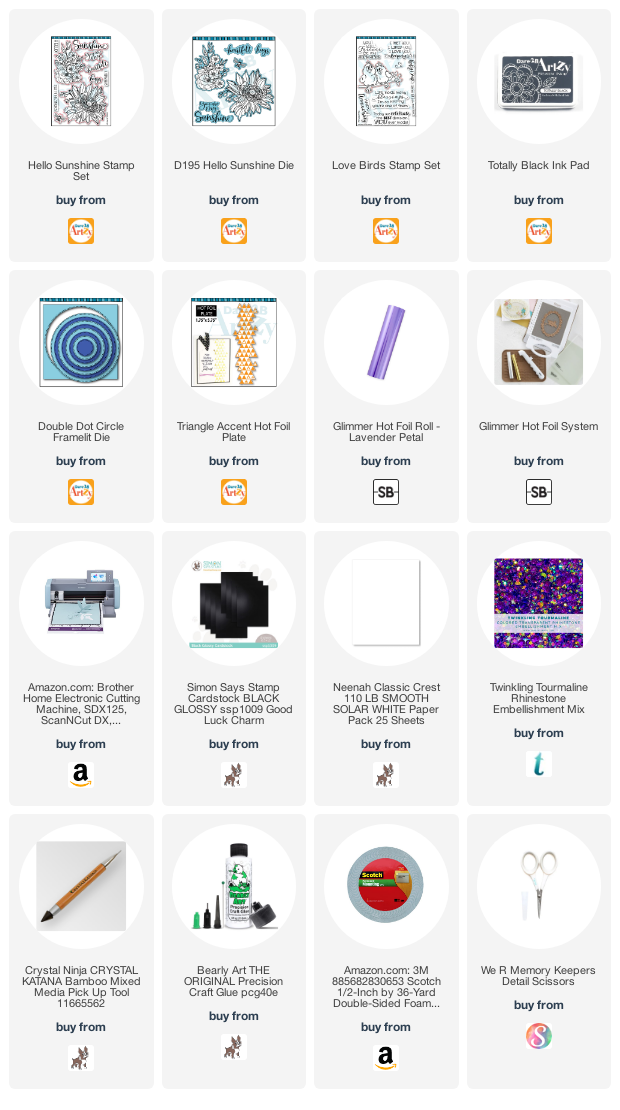 https://linkdeli.com/widget.js?id=f5e8378456858c916708