Artzy Poinsettia Card
Hello and happy Wednesday Dare 2B Artzy friends! Hope everyone is having a good week. It's a short work week for me so I've been swamped which makes the week go by quickly, but then I'm almost too tired to enjoy my time off. I'm sure some of you can relate.
I'm here to share my latest Dare 2B Artzy creation featuring the Poinsettia Tangle Stamp set. If you haven't already grabbed this stamp set, I highly recommend it. It has a gorgeous large poinsettia "tangle" stamp and some leaves as well as a smaller solid poinsettia. The sentiments alone make this stamp a must have.
For my card today, I was intrigued by the alcohol ink technique that Jennifer McGuire shared last week. I hadn't ever tried any alcohol ink techniques before and had some free time last weekend. I purchased a few inks and some paper and spent the afternoon playing.
I can honestly say that this is absolutely my new favorite technique and the results it produces are absolutely beautiful.
To work with alcohol inks, you will need some glossy cardstock or paper made specifically for alcohol inks. I purchased the Ranger Ink multi-pack of paper which has 10 sheets each of glossy, matte and a silver cardstock that's pre-cut to A2 size. I got mine on sale at Michaels for about $6.00. Yupo paper also works for this technique. I also purchased a multi-pack of the Alcohol inks in 3 different colors, some Alcohol Ink Blending solution and some Mixative paints in Silver.  In addition, I used some supplies I had at home which included a small paint brush, rubbing alcohol, small glass jar, craft mat or something you don't care if it gets messed up – even a sheet of aluminium foil would work.
NOTE: Please make sure you're in a well ventilated room with a window or fan going before you work with these inks.
I selected a piece of the glossy card stock and selected two ink colors, Patina which is sort of a green color and the Flamingo which is a bright pink.
The keys to keep in mind with the alcohol inks is that they dry incredibly quickly on paper (seriously)! They also can be layered and reactivated. So don't be intimidated if you don't like something at first – keep working at it.
I started by squirting a few drops of the ink onto the glossy card stock. The ink starts to spread out and absorb into the cardstock. As it's spreading you can layer in more ink colors, add some varying colors. The real fun is adding in blending solution and or rubbing alcohol. Blending solution makes the ink move more and rubbing alcohol lightens the color of the ink and pushes it away.
Once I had a fair amount of ink on my cardstock, some of it was starting to dry (in under 30 seconds). I reactivated it by adding more color and adding in some of the Ranger Blending Solution and one of the Mixatives. I chose the Silver. Before using the Mixative colors you need to shake them very well – they have the little balls inside to mix up the inks as they don't have the same properties as the alcohol inks. I dropped a few drops of silver onto the paper with my ink and used my paint brush and the blending solution and some alcohol and started moving it around on my paper.
Wherever it pooled up and I didn't like the way it looked I'd just add in either a bit more color or dab at the spots with my paint brush and rubbing alcohol.
This technique is so forgiving. I actually started out with a bunch of big ink circles that had dried on my paper so quickly. It looked terrible and I almost tossed it out.  I didn't want to give up so easily and figured what's the worst that could happen if I just kept adding more inks, mixatives and blending solution on top of my ink circles.  The specialty paper is also very forgiving as it can handle a lot of ink and it doesn't warp or tear. It's really a pretty fool proof technique.
It's hard to tell but the Silver mixative created a beautiful silver marbling effect in with the ink on the paper. It is so beautiful in real life I'm so glad I didn't throw it out. The ink dries into the cardstock and it retains its glossy texture. I can't even tell you how stunning it really looks and the camera doesn't really capture that. I decided that the background, though not the traditional colors would make a beautiful non-traditional Christmas card. I just love non-traditional colors used for Christmas cards and decorations.
I know some people will be concerned about the Alcohol inks and their staining properties. I used a Ranger craft mat and it did get a fair amount of ink on it, but I used a baby wipe with some rubbing alcohol added to it and was able to get it out. I was also able to use some Germ-x hand sanitizer for the alcohol that I got on my hands and it came out pretty well (I actually keep a bottle at my craft desk because it takes a lot of things off your hands). You could also utilize  rubbing alcohol or the blending solution if you happen to get ink onto your clothes.
Once my paper was completely dry, I cut it down using a scalloped edge die and added a second silvery colored layer of cardstock underneath which I also cut with a pierced edge die.
For the beautiful Dare 2B Artzy Tangle Poinsettia, I stamped it with some Versamark and heat embossed with some fine detail silver embossing powder.
Next I tried to match my Copic markers to the pink in the background and colored the poinsettia. Once it was colored I fussy cut the poinsettia out. There is a die available for this stamp set, but I don't happen to have it.
I added my background to a top folding card base made from some Neenah Solar White cardstock in 110lb.
I stamped and heat embossed my favorite sentiment from the set, Wishing You Joy in Every Merry Moment. That's so cute, I just love that sentiment.
To finish, I added a few white pearls to the front of my card.
I highly recommend trying your hand at alcohol inks. I will be sharing some other ideas I have with these inks in some upcoming posts.
Be sure to head over to the Dare 2B Artzy store to pick up this Poinsettia Tangle stamp and die set as well as many other gorgeous Christmas stamps.
Thanks for stopping by! Have a wonderful crafty day!
Hugs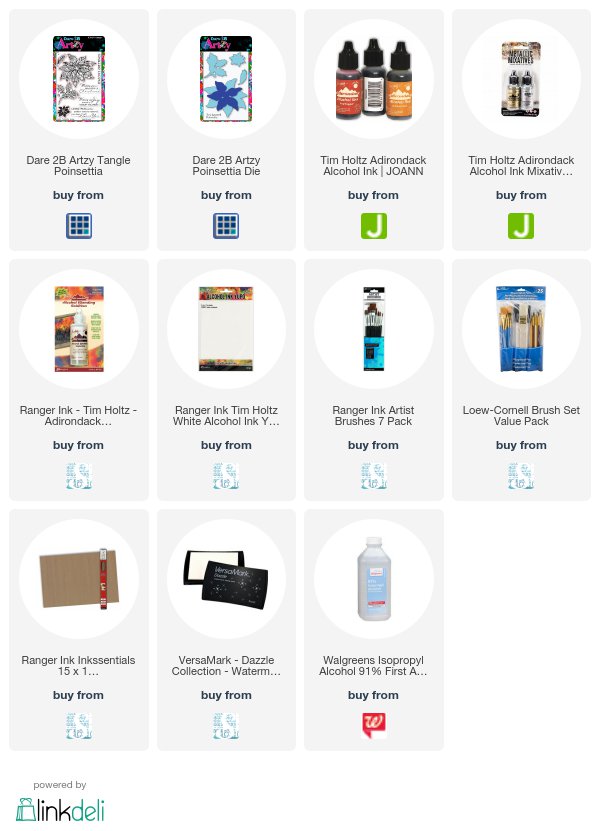 Tonya